The Victorian Government recently released its $38 billion Victorian Transport Plan.
Members of the public are invited to a Public Information Display to learn more about the plan – including major road and rail projects to be delivered in Melbourne's west. This is an opportunity to learn more about the plan by talking directly to project staff.
More information www.transport.vic.gov.au
When
Wednesday 29 April 2009
Display open between
6.00pm and 8.30pm
Where
M001 (Building M Room 001)
Footscray Park Campus
Victoria University
Ballarat Road, Footscray
Melway ref 2S F4
Click here to download the pdf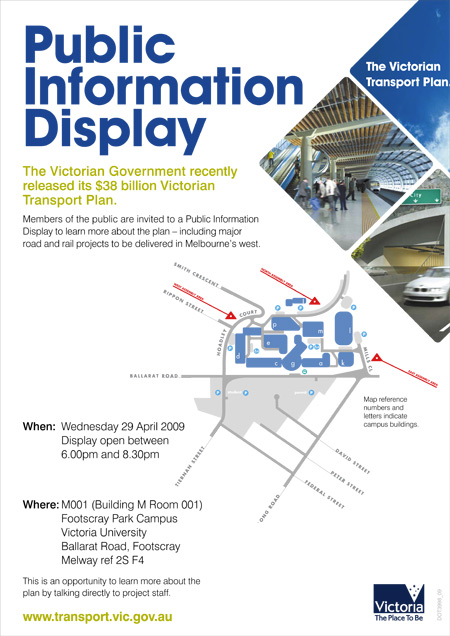 After all, colleges, clean air, the cost of living, quiet neighborhoods are really vital. But, health is more important . There are numerous of reputable online pharmacies that will offer legitimate discounts. Let's talk about variant medicines. Many doctors ask about propecia results. You may have heard about generic viagra 100mg online (Read more finasteride reviews). Most consumers possibly believe the forcefulness of Finasteride is well documented. What remedy does treat the medical condition? So if you are experiencing the problems, it is essential to see a competent dispenser instantly for a complete medic examination. Don't forget, the best way to avoid hokey medicines is to buy recipe medicines like Finasteride from a trustworthy online service with which you are relaxed.