22,000 trucks a day on the City of Maribyrnong's residential streets pose huge safety risks to truck drivers, pedestrians, cyclists and other road users.Our narrow roads, built in the 1800's, were not designed for semi trailers or B-doubles. Many trucks need more space to turn corners safely and can cut across lanes causing confusion for cars and other road users. Tight corners also mean trucks often mount the curb when turning, putting pedestrians and cyclists in danger. Roads like Somerville Road and Francis Street have multiple intersections and school crossings. The greater mass and inertia of trucks mean they take longer to stop and there are regular reports of trucks running red lights. Sudden stops can cause trucks to jack knife, putting all road users in danger. These incidents are not necessarily the truck driver's fault but the presence of so many trucks on our residential streets threatens everyone's safety.
In 2017 a cyclist was tragically killed when riding her bike south along Whitehall St.  She was struck by a truck turning left into the industrial section of Somerville Road, between Whitehall St and the river.  The truck driver, unaware he had hit anyone, kept on going until a car caught up to him and he returned to the scene.
Following this accident, Greens Senator Janet Rice made a speech in parliament calling for more funding for bike infrastructure, highlighting three recent examples of cyclist being hit by trucks in Melbourne's inner west.
One of these cyclists was 15 year old Jera who was run over by a fully loaded b-double. As he waited on the footpath at a Geelong Rd intersection, the truck turned the corner too sharply, going up over the curb, knocking the boy over and dragging him under the truck.  Again the truck driver had no idea he had hit someone until he was stopped down the road with the bike still attached to the truck.  Miraculously the boy survived, although spent many months in hospital and his leg will never fully recover from the impact.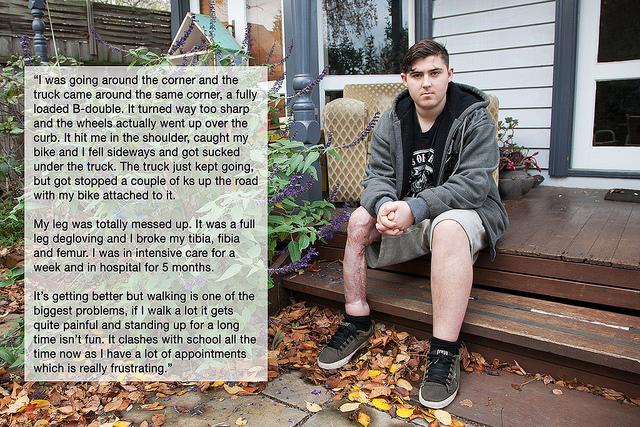 In 2017 a six day long police blitz found that more than one-third of trucks pulled over on key inner west truck routes were unroadworthy.  This was a joint operation by Victorian Police's West Gate Highway Patrol, VicRoads' Transport Safety Services and the Sherriff's Office after a spike in serious crashes, injuries and fatalities involving trucks in the City of Maribyrnong.
Napier Street, Footscray has a railway overpass, restricting trucks over a certain height. There are regular reports of trucks hitting the overpass and containers toppling onto the adjacent footpath. In 2014 Metro Trains reported that 21 trucks have crashed into the bridge in four years. The cost of this is enormous – repair of damage to the bridge and the truck, haulage costs, safety inspections, police time and productivity loss due to road closures and delayed trains.
In late 2017 the government spent $1.2 million to improve safety at the bridge.  This included laser technology to warn over-height vehicles as they approach the bridge, electronic message boards and traffic signals which are triggered by over-height vehicles and redirects them to alternative routes, and new traffic lights to stop any over-height vehicles at the last point before driving under the bridge.  Unfortunately though the system is not foolproof and so far two trucks have hit the bridge since the works were completed, both times causing huge amounts of damage.  We are also still receiving regular reports of trucks scraping the top of the bridge or setting off the triggers, but still continuing to drive under the bridge.
In early 2014 Four Corners aired 'This Trucking Life' which highlighted systemic failures in truck safety regulation and management of driver fatigue. This was in light of an accident in Mona Vale, NSW, where suspected brake failure caused a Cootes fuel tanker to crash and explode, killing two people. A subsequent VicRoads inspection of Cootes Transport vehicles led to almost 40 percent of the fleet being taken off the road with safety defects. Cootes have a large depot in Spotswood and tanker trucks regularly use Somerville Road and Francis Street to get to one of the largest fuel depots in the state, ExxonMobil's Yarraville Terminal. The secretary of the Transport Workers Union said that drivers are forced to speed, skip rest breaks and fake their logbooks. He then went on to say that "Petrol tankers are literally mobile bombs, they're at the most dangerous end of Australia's most dangerous industry". Whilst most fuel tankers here are local, when they drive metres from our homes, schools and childcare centres every day it is vital that government safety regulations are strict enough to protect communities like ours.
In light of this systemic failure in safety controls, the Maribyrnong City Council called for a ban on all heavy vehicles in suburban streets until the state government audits the current safety measures. This call was ignored by the state government.
MTAG are compiling an ongoing list of truck incidents in the West.  This is not about apportioning blame. This is about highlighting the unsuitability of residential streets as major truck routes and the impact that this has on the community.  If you see any kind of incident with a truck, please report it here.