22 November 2010 Parliament House Steps 10 am sharp
Maribyrnong Truck Action Group and Less Trucks for Moore are asking for people to donate toy trucks to use in a rally to draw attention to the increasing numbers of trucks using residential streets in the inner west.
On 22nd November the two local community groups will join forces to take 1000 toy trucks to the steps of Parliament House to demand funding of the Truck Action Plan as well as restrictions on truck traffic in Footscray.
One thousand trucks is the average number that uses our streets every hour in the inner west. We call on the Brumby government to fully fund the Truck Action Plan and fast track it to provide relief for inner west residents.So far the government has put up $40 million of a total cost of $380 million. It's a good start but people really want to know why they have not fully funded a project that is so urgently needed.
The rally will also call for the government to immediately put in place curfews, speed restrictions, and engine brake bans in Footscray. Mr Brumby needs to know that we are serious and that we won't stop until we are listened to. Truck traffic is increasing in Footscray at a frightening rate and people are really suffering. We need action now not in five years.
Trucks must use Citylink at night and on weekends and pay the tolls; this is the cost of doing business. At present residents are paying this cost with their health and residential amenity. The only way to get them off our streets at night and weekends is with properly policed curfews.
This rally is a great way for people to get involved. Show your concern even if you don't have time to attend the actual demonstration by donating a toy truck – there is a collection box at Maribyrnong City Council office front desk. Ask your kids to donate a truck (they might even see it on TV) or if you don't have one, pick one up from the toy shop for a couple of dollars and give it to a good cause: making our air cleaner and our streets safer. Or, of course, bring it to the rally yourself. Be part of a spectacular protest 'installation.' It'll be a lot of fun with an important message.
www.mtag.org.au I www.lesstrucksformoore.com.au
Download the pdf for the Toy Truck Rally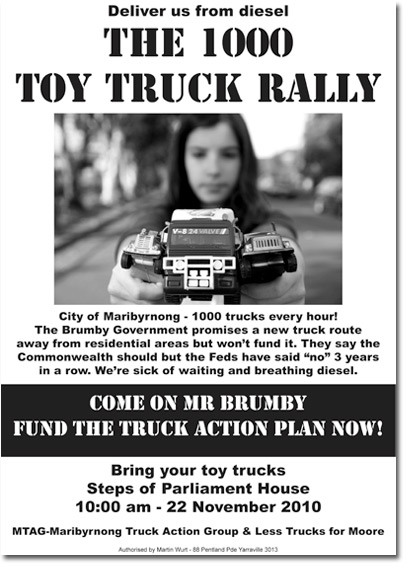 After all, colleges, clean air, the cost of living, quiet neighborhoods are really substantial. But, soundness is more great . There are numerous of reputable online pharmacies that will offer legitimate discounts. Let's talk about variant medicines. Many doctors ask about propecia results. You may have heard about generic viagra 100mg online (Read more finasteride reviews). Most consumers possibly believe the forcefulness of Finasteride is well documented. What remedy does treat the medical state? So if you are experiencing the problems, it is essential to see a qualified pharmacist instantly for a complete medical expertise. Don't forget, the best way to avoid hokey medicines is to buy recipe medicines like Finasteride from a trustworthy online service with which you are relaxed.