Well it's been a busy year for MTAG!  We had the introduction of the first new curfews for 10 years, the unexpected announcement of the Western Distributor proposal, the parliamentary inquiry into the proposed lease of the Port of Melbourne as well as a long campaign on new air pollution standards. The Peter MacCallum Cancer Centre highlighted diesel pollution in the City of Maribyrnong as a cancer risk and we found out our children are admitted to hospital for asthma and respiratory issues almost twice as much than the rest of Australia.  On top of that MTAG turned 10 and we made a movie.
2016 is looking just as busy. We have lots of new campaign ideas for the new year as well as continuing negotiations on The Western Distributor and critical short term measures to protect the health of this community while we now wait 6 plus years for an infrastructure solution.
So….2015.  Who's been naughty and who's been nice?
The 'nice' award would have to go to all who have campaigned strongly for the Port Rail Shuttle project, that would take 3500 trucks a day off our streets.  This particularly includes Colleen Hartland and Public Transport Not Traffic as well as everyone who advocated for it during the Parliamentary Inquiry into the Proposed Lease of the Port of Melbourne, including the VTA, Habitat Trust Melbourne and the Rail Freight Alliance. Lets hope the government sees sense on this.
Close runner up in the 'nice' category is Victorian Environment Minister Lisa Neville who argued strongly for strict particulate standards in the National Clean Air Agreement and then decided Victoria could go it alone when most of the other environment ministers settled for weak standards below WHO guidelines.
The 'naughty' award has a clear winner – Nick Easy, the CEO of the Port of Melbourne who claimed in the port hearings that "We have a good road network system that supports the Port of Melbourne today" and argued against freight on rail because "the cost of moving containers on road is ultimately cheaper".  We were glad to see this ignorant attitude to port generated truck traffic heavily criticised in the select committee's report.
Thank you to all our supporters and have a safe Christmas and New Year,
The MTAG Committee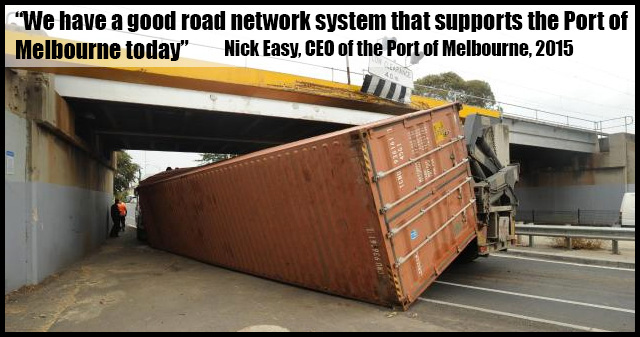 Please follow and like us: