Is this the most unliveable street in Australia?
Francis Street Yarraville, with its passing traffic is possibly the unhealthiest and most dangerous street in Australia and has the dubious claim to fame of the highest levels of diesel pollution recorded in any residential street in this country.Even in global terms it appears that Francis Street is among the worst streets in the world in terms of pollution and truck traffic. One of the most controversial pollution issues in the USA is around the Port of Oakland near San Francisco California, in an area not dissimilar to Maribyrnong. The notorious Richmond Parkway has recorded pollution levels 40 times higher than the Californian average. Given that Richmond Parkway carries only 7000 trucks a day where does that leave us? Source:
http://www.sfgate.com/cgi-bin/article.cgi?f=/c/a/2005/07/18/BAGMADPHF21.DTL
While Francis Street may be one of the worst streets in the world, and certainly carries the highest volumes of truck traffic in Maribyrnong, it is unfortunately not the only street in our municipality blighted by excessive numbers of trucks. Some of the other streets with major problems caused by trucks include: Somerville Road, Hyde St, Paramount Rd, Dempster St, Williamstown Road, Sredna St, Buckley St, Barkly St, and Moore St.
Since 2002, more and more trucks are using our streets; belching out cancer-causing pollution as they criss-cross the suburbs of Maribyrnong, trying to wipe a few minutes off travel times and save a few bucks in tolls.
At what cost to our children?
Did you know that more than 20,000 heavy trucks a day presently use residential streets in Maribyrnong as thoroughfares? **figures supplied by Vic Roads March 2005. Count does not include traffic on Barkly St, Moore St or Whitehall St Footscray.
According to the most recent research, quoted in the Sydney Morning Herald (August 12th 2005), it appears that children living close to pollution hotspots are 12 times more likely to die of cancer than those who don't. The Herald Sun (11th September 2005) also published an article headed 'Cancer Link to Fumes', which quoted the Cancer Council of Victoria's Professor Mark Elwood: "Chemicals in diesel emissions are cancer causing agents, we know that." Another study done this year at Birmingham University concludes that many childhood cancers are caused by exposure to diesel emissions while in the womb (27th January 2005 Dieselwatch)
Did you know that the planned expansion of the port of Melbourne will result in even more trucks on our streets? The Bureau of Transport Economics stated this year that truck activity is expected to grow by up to 80% by 2015. The government's proposal to increase the amount of freight carried by rail will only take a fraction of the extra traffic.
What will it take before the government starts to take our concerns seriously?
How many more fatal accidents involving trucks? How many more reports into the links between cancer and diesel pollution? How many more cases of houses crumbling from the foundations up? How many more complaints from schools, kindergartens and child care centres, which live in fear of the effects of these monster trucks barrelling past, only feet away from playgrounds?
Did you know that a large chunk of your rates goes to fixing the damage done to our streets by heavy trucks? The inner west has the worst roads in Melbourne; they were not designed for heavy transport and are crumbling under the increased traffic.
As the length of trucks and the weight of their loads are increasing they pose an increasing risk to the safety of other road users? These large vehicles often run red lights because they are too heavy to stop, and cross to the wrong side of the road to turn because they are too big for residential streets. They belong on freeways!
Why should we put up with being treated like second-class citizens? Could you imagine people in South Yarra or Camberwell or Fitzroy or Ballarat or ANYWHERE, being expected to put up with thousands of trucks a day thundering past only feet away from their bedroom windows?
Why does the government consistently place the interests of industry and trucking over the interests of the communities of the inner west? Whatever one's political leanings, it appears that democratic process is not serving our community well. Labor has been in power in the West since 1927 and holds the seat by a massive 24%, perhaps this margin breeds complacency.
Did you know one truck can emit as much pollution as 100 cars?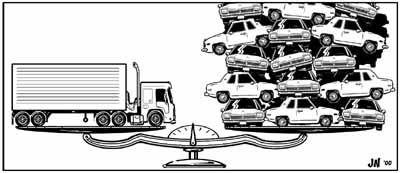 For more information and discussion go to the MTAG forum