In April of this year MTAG commissioned a study into the impact of truck traffic on residents of the inner west. Approximately 1000 surveys were distributed throughout Yarraville, Kingsville, Seddon, and Footscray. Of these 500 were placed in letterboxes on the major freight routes of Francis St, Somerville Rd, Williamstown Rd and Buckley St. The remaining surveys were distributed through childcare centres, schools and via the MTAG website. Around 300 of these surveys were completed and returned; a number of other surveys came from respondents through the MTAG website.
Now the published results of this Health Survey are available as a download as pdf.
Click to download 889KB pdf.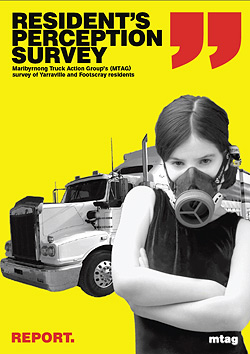 After all, colleges, clean air, the cost of living, quiet neighborhoods are really essential. But, heartiness is more significant . There are numerous of reputable online pharmacies that will offer legitimate discounts. Let's talk about variant medicines. Many doctors ask about propecia results. You may have heard about generic viagra 100mg online (Read more finasteride reviews). Most consumers possibly believe the forcefulness of Finasteride is well documented. What remedy does treat the medical condition? So if you are experiencing the problems, it is essential to see a qualified pharmacist instantly for a complete medic examination. Don't forget, the best way to avoid hokey medicines is to buy recipe medicines like Finasteride from a trustworthy online service with which you are relaxed.