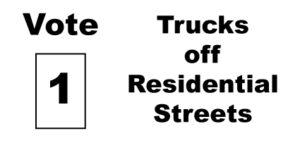 We have been asked by supporters who residents should vote for at the election if they are concerned about truck traffic in Melbourne's inner west. Our answer: The Greens.Why?
The Greens is the ONLY party heading into this federal election with a policy to address the truck problem. They have consistently campaigned on the issue of truck traffic in the inner west. The Greens unequivocally support the building of the Westgate ramps to create a direct route for trucks to the Port of Melbourne and their policies include $100,000,000 federal money towards this vital infrastructure. The lead senate candidate for The Greens in Victoria is Janet Rice who knows as much about transport and as much about truck problems in the inner west as anyone else and has worked hard on the issue as a founding member of MTAG and as Mayor of Maribyrnong.
We say, if you are concerned about the trucks support The Greens, and please consider voting for Janet Rice in the Senate, regardless of who you vote for in the Lower House, to give the issue of truck traffic in our neighbourhood a voice in federal politics.
Our view on this is not about politics. It's a response to a proven record of intelligent, practical policy on this issue, and a strong record of hard work backing it up.
http://candidates.greens.org.au/greens-release-costed-transport-plan-melbourne
Please follow and like us: